3M DG3 Reflective Sheeting Series 4000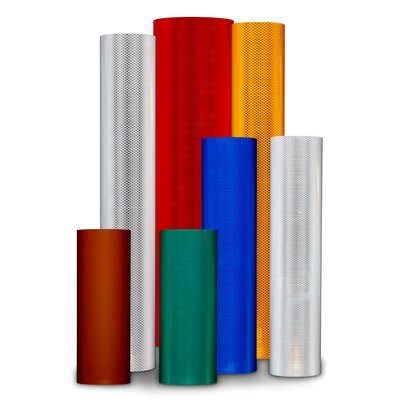 Adhesive Type:

Pressure-Sensitive, Solvent Free

Colour:

Colour-Pineapple, Green, White

Colour Code:

4090, 4091, 4097

Length:

50 yd

Mark:

SEM

Print Compatibility:

Screenprint

Reflective Level:

Diamond Grade Prismatic (DG3)

Reflective Type:

ASTM Type IX

Removability:

Permanent

Series:

4000

Thickness:

22 mil

Width:

6"
3M™ Diamond Grade DG3 Reflective Sheeting Series 4000 is the most efficient retroreflective prism design currently available from 3M and is designed to be used on vertical traffic signs and delineators. This film is an effective, wide-angle reflective, regardless of its orientation on the substrate or the ultimate orientation of the sign after installation. This helps return light to drivers from a variety of different viewing geometries.
Prismatic sheeting manufacturing results in lines being present in the product
Key Features
22 mil Diamond Grade DG3 Reflective Sheeting
Super-high efficiency, full cube retroreflective
Higher luminance values improve safety
Meets ASTM D4956 Type XI specifications
Returns 58% of available light to maintain visibility
Provides improved visibility over glass bead retroreflectors and truncated cube optics
Pressure-sensitive adhesive backing
Adhesive Type
Mark
Print Compatibility
Reflective Level
Reflective Type
Removability
Series
Thickness
Pressure-Sensitive, Solvent Free

SEM

Latex and Screenprint

Diamond Grade Prismatic (DG3)

ASTM Type IX

Permanent

4000

22 mil