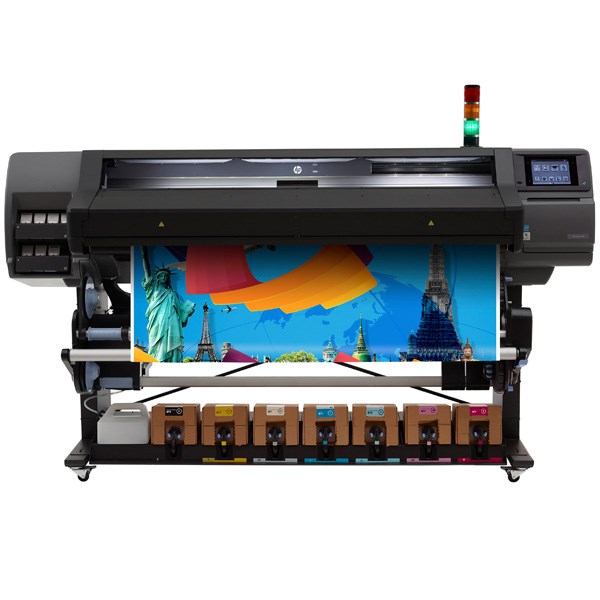 Ink Cartridge Size:

3 L

Ink Configuration:

C, M, Y, K, LC, LM, Optimizer

Ink Series:

HP 871A

Ink Type:

Latex

Media Handling:

Automatic Media Cutter, Roll Feed, Take-Up Reel, Ink Collector, Roll Lifter, Wiper Roller

Media Roll Size:

10 - 64"

Media Roll Weight:

121 lb

Resolution-Maximum:

1200 x 1200 dpi

Size:

64"

Software:

Not Included

Speed-Maximum:

980 sqft/hr

Speed-Quality:

248 sqft/hr

Warranty:

1 yr
Cost effective and easily integrated into your fleet
Expand your capacity with a printer optimized for fleet management. Drive high productivity with fast print speeds, along with workflow and cost efficiencies.
64" wide | 3-liter ink cartridges | 248 sqft/hr indoor quality
High productivity with fast, easy operation
Automatic X-axis cutter
Built-in Spectrophotometer
Take up reel included
Ink collector for textile printing
On board profile writing
Spindless loading
HP Latex Mobile App
Ink sold separately
Ink Cartridge Size
Ink Type
Media Handling
Media Roll Size
Media Roll Weight
Resolution-Maximum
Size
Speed-Maximum
Speed-Quality
Warranty
Ink Configuration
Ink Series
Software
3 L
Latex
Automatic Media Cutter, Roll Feed, Take-Up Reel, Ink Collector, Roll Lifter, Wiper Roller
10 - 64"
121 lb
1200 x 1200 dpi
64"
980 sqft/hr
248 sqft/hr
1 yr
C, M, Y, K, LC, LM, Optimizer
HP 871A
Not Included