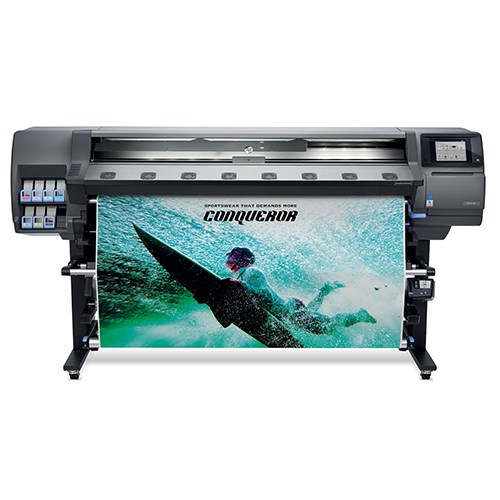 Ink Cartridge Size:

775 mL

Ink Configuration:

C, M, Y, K, LC, LM, Optimizer

Ink Series:

HP 831A

Ink Type:

Latex

Media Handling:

Automatic Media Cutter, Roll Feed, Take-Up Reel

Media Roll Size:

10 - 64"

Media Roll Weight:

92.6 lb

Optional Accessories:

2" Spindle, 3" Spindle, User Maintenance Kit, Ink Collector

Resolution-Maximum:

1200 x 1200 dpi

Size:

64"

Software:

Not Included

Speed-Maximum:

980 sqft/hr

Speed-Quality:

183 sqft/hr

Warranty:

1 yr
Maximize versatility with this full-feature printer
Exceed client expectations with production speeds ideal for handling urgent jobs. The HP Latex 365 Printer produces indoor and outdoor prints on a variety of traditional signage substrates—even textiles. And high-quality, durable prints provide scratch resistance comparable to hard-solvent inks.
64" roll width | 8" touchscreen | Online training
High quality at high speeds
Automatic X-axis cutter
Built-in Spectrophotometer
Take up reel included
Ink collector for textile printing
On board profile writing
HP Latex Mobile App
Inks included
Ink Cartridge Size
Ink Type
Media Handling
Media Roll Size
Media Roll Weight
Resolution-Maximum
Size
Speed-Maximum
Speed-Quality
Warranty
Ink Configuration
Ink Series
Software
Optional Accessories
775 mL
Latex
Automatic Media Cutter, Roll Feed, Take-Up Reel
10 - 64"
92.6 lb
1200 x 1200 dpi
64"
980 sqft/hr
183 sqft/hr
1 yr
C, M, Y, K, LC, LM, Optimizer
HP 831A
Not Included
2" Spindle, 3" Spindle, User Maintenance Kit, Ink Collector