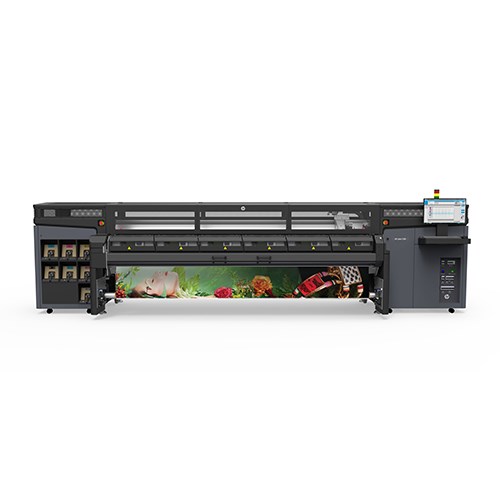 Ink Cartridge Size:

5 L

Ink Configuration:

C, M, Y, K, LC, LM, Optimizer

Ink Series:

HP 881

Ink Type:

Latex

Media Handling:

Double-Sided Blockout, Dual roll (optional), Ink Collector (optional), Roll-to-free fall (optional), Roll-to-roll

Media Roll Size:

63 - 126"

Media Roll Weight:

350 lb

Optional Accessories:

Double-Sided Day Night Kit, Dual Roll Kit, Edge Holder Kit, Ink Collector Foams Kit, Ink Collector Kit, In-line Slitters, Media Saver Kit, RIP Software, Roll-to-freefall Kit

Resolution-Maximum:

1200 x 1200 dpi

Size:

126"

Software:

Not Included

Speed-Maximum:

800 sqft/hr

Speed-Quality:

480 sqft/hr
Affordable superwide HP Latex printing
Achieve high-quality results and fast turnarounds. Stay competitive with this affordable 126" HP Latex printer. This is fast, superwide production at the quality you expect, and at low running costs.
Up to 126" | 5 litre ink catridges | Up to 350 lb roll weight
Can print 126" wide or using two rolls of up to 63" at the same time
Can run textiles without a backer with the ink collector kit
Designed for unattended printing
Features 5 litre ink cartridges
Ink Cartridge Size
Ink Type
Media Handling
Media Roll Size
Media Roll Weight
Resolution-Maximum
Size
Speed-Maximum
Speed-Quality
Ink Configuration
Ink Series
Software
Optional Accessories
5 L
Latex
Double-Sided Blockout, Dual roll (optional), Ink Collector (optional), Roll-to-free fall (optional), Roll-to-roll
63 - 126"
350 lb
1200 x 1200 dpi
126"
800 sqft/hr
480 sqft/hr
C, M, Y, K, LC, LM, Optimizer
HP 881
Not Included
Double-Sided Day Night Kit, Dual Roll Kit, Edge Holder Kit, Ink Collector Foams Kit, Ink Collector Kit, In-line Slitters, Media Saver Kit, RIP Software, Roll-to-freefall Kit