HP Latex 115 Print and Cut Solution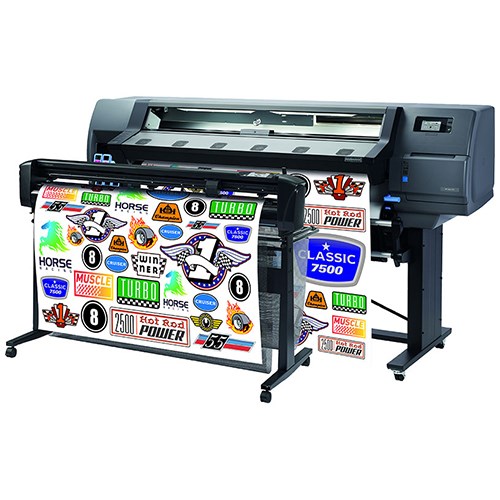 Cut Speed-Maximum:

33 in/s

Cut Type:

Drag-Knife with TurboCut & Tangential modes

Cut Width-Maximum:

53.1"

Cutting Force:

0 - 400 gf

Ink Cartridge Size:

400 mL

Ink Configuration:

C,M,Y,K,LC,LM,Optimizer

Ink Series:

HP 821

Ink Type:

Latex

Media Handling:

Automatic Media Cutter, Roll Feed, Take-Up Reel (optional)

Media Roll Size:

10 - 54"

Media Roll Weight:

55 lb

Media Thickness-Maximum:

19.7 mil

Resolution-Maximum:

1200 x 1200 dpi

Series:

Print and Cut

Size:

54"

Software:

FlexiPrint and Cut

Speed-Maximum:

517 sqft/hr

Speed-Quality:

129 sqft/hr

Warranty:

1 yr
Start—with this easy, affordable HP Latex print and cut solution
Double your speed and save more time with HP's true print and cut solution. Manage the integrated workflow from a single point, and take advantage of HP Signage Suite² to produce more applications—no design skills needed.
54" roll width | PRINT and CUT | Printing software included
Print and cut in 5 simple steps
Automatic maintenance
Easily replace ink cartridges and printheads
Online operator training
HP Latex Mobile App
Ink Cartridge Size
Ink Type
Media Handling
Media Roll Size
Media Roll Weight
Resolution-Maximum
Size
Speed-Maximum
Speed-Quality
Warranty
Cut Speed-Maximum
Cut Type
Cut Width-Maximum
Cutting Force
Ink Configuration
Ink Series
Media Thickness-Maximum
Software
Series
400 mL
Latex
Automatic Media Cutter, Roll Feed, Take-Up Reel (optional)
10 - 54"
55 lb
1200 x 1200 dpi
54"
517 sqft/hr
129 sqft/hr
1 yr
33 in/s
Drag-Knife with TurboCut & Tangential modes
53.1"
0 - 400 gf
C,M,Y,K,LC,LM,Optimizer
HP 821
19.7 mil
FlexiPrint and Cut
Print and Cut