HP Latex R2000 Plus Printer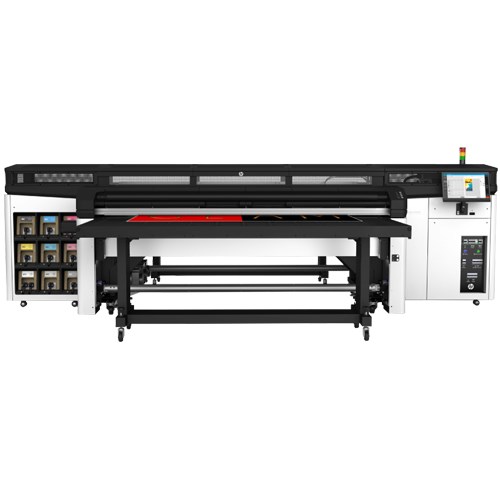 Includes:

Extension Tables

Ink Cartridge Size:

5 L

Ink Configuration:

C, M, Y, K, LC, LM, Optimizer, Overcoat, White

Ink Type:

Latex

Media Handling:

Flatbed, Roll Feed, Roll-to-Roll, Sheet Feed, Vacuum Belt Media Drive

Media Roll Size:

24 - 98.4"

Media Roll Weight:

220 lb

Media Thickness-Maximum:

2"

Rigid Media Size:

98" x 48"

Size:

98"

Speed-Maximum:

948 sqft/hr

Speed-Quality:

496 sqft/hr

Warranty:

1.5 yr
Achieve amazing colors on rigid and flexible with the vibrant HP Latex color gamut on rigid, and prints with no smell. Expand your offering with the glossiest white. Maximize uptime with this smart printer for proactive and preventive services.
Ideal for: Print service providers that are current HP Latex owners and those with UV technology experience who need to print on rigid media and/or need white.
Media Sizes: 24 to 98.4 in
Media Handling: Flatbed, sheet feed, roll feed, vacuum belt media drive for easy loading and accurate media advance
Ethernet & Mobile Printing: Fast Gigabit Ethernet. Stay connected with your printer in real time while you're away with the free HP Latex Mobile app.
Print Speeds: 220 ft²/hr - Indoor High Quality (12p 120%); 496 ft²/hr - Indoor Production (6p 110%); 948 ft²/hr - Outdoor (3p 70%); 183 ft²/hr - White Overflood (100%); 380 ft²/hr - White Spot (100%)
Internal Print Server: Efficiently manage the job queue and settings.
Why to Buy: Unprecedented quality and colorsmon rigid up to 98 inches, for sustained production environments.
Eco Friendly: HP Latex Inks are UL ECOLOGO® and UL GREENGUARD GOLD Certified
HP Latex Ink Cartridges: HP 886 White (G0Z09A), HP 882 Cyan (G0Z10A), HP 882 Magenta (G0Z11A), HP 882 Yellow (G0Z12A), HP 882 Black (G0Z13A), HP 882 Light Cyan (G0Z14A), HP 882 Light Magenta (G0Z15A), HP 882 Latex Optimizer (G0Z16A), HP 882 Overcoat (G0Z17A). HP 886 Series Printheads.
Includes
Ink Cartridge Size
Ink Configuration
Ink Type
Media Handling
Media Roll Size
Media Roll Weight
Media Thickness-Maximum
Rigid Media Size
Size
Speed-Maximum
Speed-Quality
Warranty
Extension Tables
5 L
C, M, Y, K, LC, LM, Optimizer, Overcoat, White
Latex
Flatbed, Roll Feed, Roll-to-Roll, Sheet Feed, Vacuum Belt Media Drive
24 - 98.4"
220 lb
2"
98" x 48"
98"
948 sqft/hr
496 sqft/hr
1.5 yr