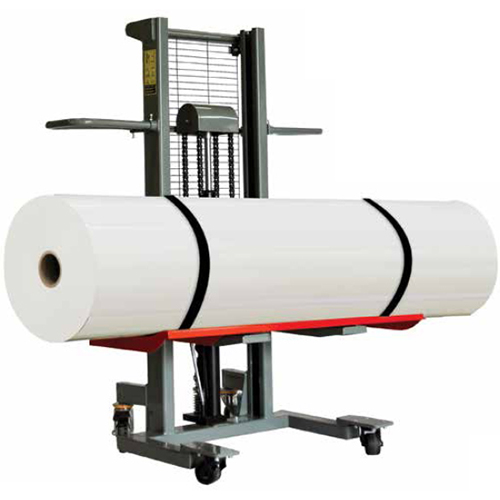 Pair of heavy-duty swivel casters with easy step-on locking brake
Reduces on-the-job injuries and enables all workers to move heavy rolls
User-friendly operation avoids costly and dangerous handling mistakes that damage media
Rugged construction ensures long lifter life
Single-person operation saves labor and time
Foot pump allows for smooth, effortless lifting within minutes.
2-year warranty on hydraulics and media tray. 5-year warranty on cross bars.
One operator can easily lift rolls as heavy as 990 lbs (450 kg), as wide as 16 feet 5 inches (5 m), and with diameters as great as 19.6 inches (50 cm). Designed for EFI, Reggiani and Matan printers, the Foster On-a-Roll® Lifter Jumbo is perfect for businesses operating grande- or extra-wide printers, fabric printers, or those handling floor coverings and similar materials.
Bottom Fork Clearance
Lift Height
Max. Roll Diameter
Max. Roll Width
Weight
4.33" (11 cm)

70″ H (178 cm)

19.6″ (50 cm)

16′ 5″ (500 cm)

295 lbs (134 kg)