On-A-Roll® Lifter Universal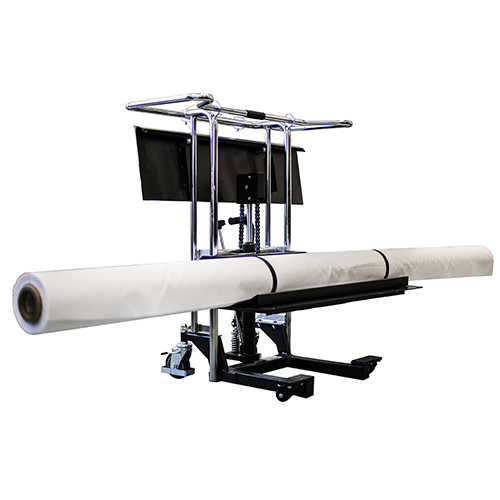 Thin flat roll tray fits inside the opening of most printers.
Adjustable roll wedges and a removable roll ramp permit use with most printers and flatbed roll-to-roll cutters.
Heavy rolls are handled easily, reducing the chance of on-the-job injuries.
Rugged construction ensures long lifter life
One-person operation saves labor and time.
Foot pump allows for smooth, effortless lifting within minutes.
2-year warranty on hydraulics and media tray. 5-year warranty on cross bars.
The flat roll loading tray fits printers including AGFA Anapurna, Mira, Tauro and Titan models, as well as many roll-to-roll flatbed cutters. The tray easily fits into the side of the roll loading area, and multiple roll wedge mounting holes enable the operator to position the roll precisely for loading and unloading. The roll loading ramp may be removed to prevent interference with dancer bars and other elements of the printer frame. Using the safety straps, one operator can easily lift rolls as heavy as 660 lbs (300 kg) and as wide as 16 feet 5 inches (5 m). The removable ramp can be stored on the back of the upright frame when not in use.
Bottom Fork Clearance
Lift Height
Max. Roll Diameter
Max. Roll Width
Roll Weight Capacity
Weight
3.5" (8.9 cm)

33.5″ H (85 cm)

15.75″ (40 cm)

16′ 5″ (500 cm)

660 lbs (300 kg)

265 lbs (120 kg)