For the past 12 years, MAXMETAL has been a leading brand in the sign and graphics industry in North America.
Exclusively from Grimco, MAXMETAL Aluminum Composite Panel (ACP) leads the market for quality, value and dependability. For the past 12 years, MAXMETAL has been a leading brand in the sign and graphics industry in North America. Our passion for producing these ACP panels, engineered specifically to fulfill the need in our sign market which have led thousands of sign and graphics professionals to choose MAXMETAL for its trusted quality and results.
Whether you are making sign blanks, routing letters, direct printing or fabricating architectural signs, MAXMETAL delivers maximum performance with maximum results.
MAXMETAL
MAXMETAL ACP is comprised of two, pre-painted .15mm aluminum panels bonded to a solid polyethylene core. It's lighter in weight and more durable than both MDO and solid aluminum panels, and resists scratching and denting better than wood panels. The finish is ready for vinyl, screen print inks, paint, cutting or routing.
The original flagship MAXMETAL is consistently a reliable choice for your sign and graphic application needs!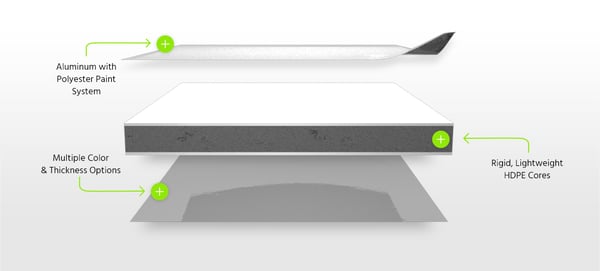 Product Portfolio
MAXMETAL continues to stay ahead of the market by introducing new products to fit our customers' needs. The full line of panels we carry are designed for an assortment of applications. With a variety of products to choose from, MAXMETAL has the solution for you!
The product portfolio ranges from -
The original MAXMETAL
One-Sided for one sided projects
6MM for optimized strength
Click Here for Full Product Portfolio Info

Applications
MAXMETAL can be used to fabricate a variety of sign techniques and direct print options with standard digital flatbed equipment. With the flexibility of MAXMETAL across different platforms, MAXMETAL stands out above the competition with unique features!
MAXMETAL is a versatile sign substrate that's vinyl receptive and screen printable. It can be printed on using a flatbed printer or vinyl applied for uses such as site signs, directional signs, wall signs, 3D lettering and display signs. You can utilize the standard MAXMETAL product.
MAXMETAL offers fabrication-grade ACP panels that are thick and heavy duty, making them great for scoring and bending to build architectural and electrical signs. Not only can this substrate be fabricated with ease for electrical applications, it can also be used for channel letter and sign cabinet backs.
MAXMETAL is comprised of two aluminum faces and a sturdy polyethylene core which contributes to the strength, flexibility, and stability of the panel. Being lightweight yet rigid, makes MAXMETAL a great alternative substrate for traffic and way-finding signs.

Grimco and MAXMETAL?
MAXMETAL panels are a part of the GRIMCO Exclusives family, sold only by Grimco - one of the most respected sign distributors in the countinent. We care about the quality and consistency of our products that we provide to our customers and MAXMETAL continues to represent our values.
Grimco has inventory stocked locally across 7 locations in Canada, paired with a friendly and responsive sales staff eager to help or answer your questions about MAXMETAL or any of our other product offerings. We pride ourselves in being that one-stop shop for all of your signage needs with the ease and convenience of online ordering.
Make Grimco your source for trusted MAXMETAL ACP and other complimentary sign supplies.